Basic Stewards training held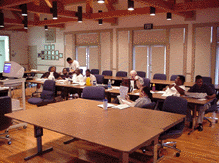 From June 26th to the 29th we held basic Stewards training locally in the training building. Most of our local Stewards were in attendance. Among the topics we discussed were employee rights, formal meetings, Weingarten meetings, investigatory interviews, master agreement training and other issues of importance to the local union. This training should have better equipped our Stewards for serving your needs. Remember the local union Steward is here to help and assist you in matters that concern the workplace feel free to contact them with your questions and concerns they only desire to assist you. I would now like to speak to you briefly concerning investigations and union representation. Every employee that is in the bargaining unit has a right to be represented by the union in connection with investigations. It can be imperative to your lively hood that you exercise this right. When called in connection with an investigation the agency can not even begin questioning an employee if that employee requests representation until the union representative arrives on the scene. The common sense thing to do is to exercise your rights. You will not be intimidated or harassed if you do. The union is here to help you so let it and call them when you need to. Here is a list of Stewards and what department they are in. Call them with your concerns and put them to work that is how they will learn and become union President some day.
Williams K.""Custody
Lee H.""Custody
Thomas W." "Custody
Johnson C.""F/S
Williams V.""CMS
Cole D.""Custody
Belchie W.""F/S
Smith C.Q. ""F/S
Butler H.""F/S
Elliott J.""UNICOR
Thrasher T.""Programs
Austin J. ""Programs
Nemenie J.""Custody
Knox A.""UNICOR
Herrick J.""Comm
Baldwin S.""R&D
Kotajarvi M.""Custody
Trujillo L.""Medical
Karen Mickel""Recreation
I thank these fine people for caring enough to want to put their jobs on the line to make Atlanta a fair place to work. I will try to keep them updated with what is going on in the union so that they can update you (the member). Give them your support and encouragement. They will need that in order to get the job done. I am very proud of our Stewards. My hat is off to them and I thank each and everyone of them for their hard work and support.